Industrial software solutions extend to every critical process in your business. We design custom software and hardware solutions that provide process automation & quality control.
A software oriented approach
Synadia's way of working differs from many of its competitors, due to our strong software-oriented approach. Our specialists can, therefore, develop advanced solutions that remain stable.
By applying the right architecture, we have complete control and can easily carry out updates. By using smart systems and connecting them to the cloud, possibilities are endless.
Software-based PLC's
Our team has extensive expertise in PLC programming. We help you create a stable and future-proof solution . A solid base is the first step towards a future-proof process.
Cloud connectivity
Add new features to your machine like predictive maintenance, machine learning, real-time dashboards, reporting all kinds of functionalities were the cloud is intended.
Hardware engineering
Together with our partners, we deliver turn-key projects. There is just one contact person who is the engine for your project.
Do you have a machine or an idea, but not the software?
Machine software
With our knowledge of industrial software, we can completely unburden you. We develop software for your specific machine with your wishes and requirements. This way, you are guaranteed the best software solutions which give more value to your customers.
Custom branded
Your idea is your machine; No problem. We deliver your machine software with your own brand identity, colors, and logo are customized specially for your machine.
Electrical cabinets
With our vision of track and tracing, we integrate electrical cabinets into the software. All components are labelled and easy to find when an error occurs; the software tells you exactly which part has an error.
IT infrastructure
We ensure that machines are securely implemented into your existing IT infrastructure. Machines nowadays communicate with many different devices and MES / ERP systems. A professional IT infrastructure is therefore key, as it takes away the risk of network problems. Also, machines are increasingly integrated into the IT network of end customers, where security is of paramount importance.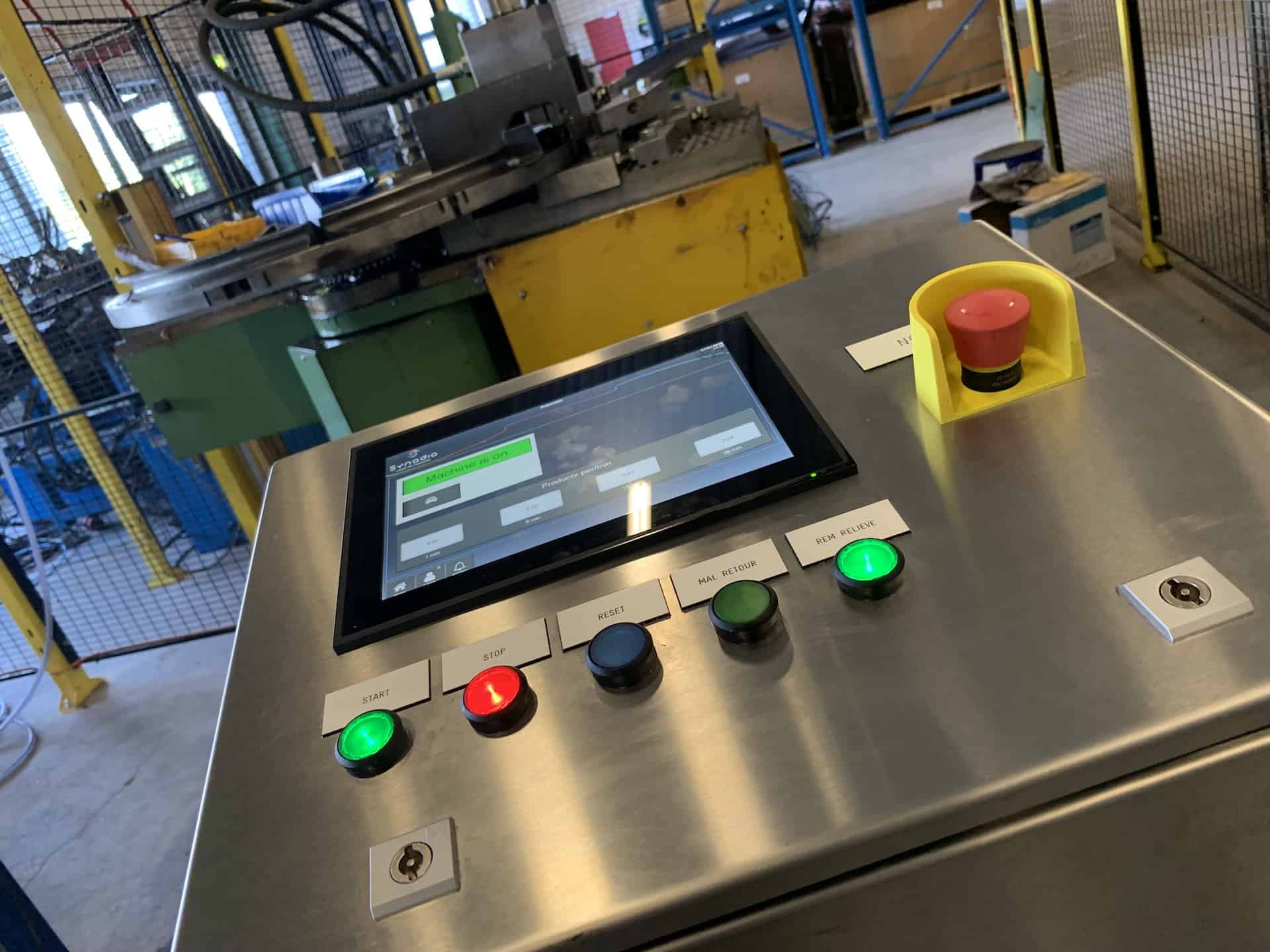 Why connect your machinepark to the
#cloud

?
Improve security levels
Cloud security is a top priority at Synadia. Together with our partner Amazon Web Services, we guarantee you the best level of security available. As an AWS customer, you benefit from a data center and network architecture built to meet the requirements of the most security-sensitive organizations.
Innovate faster
Nothing is carved in stone anymore, which means that new innovations can smoothly be integrated into your existing business. Small blocks of software that can easily be extended and optimized with new features. Features that already have been tested for thousands of hours in productions and that are available exclusively for AWS customers.
Predict maintenance
Predictive maintenance is based on large amounts of data. An extensive amount of computing capacity is required to create smart algorithms that recognize patterns in order to ultimately determine whether a motor breaks or not. In the cloud, we can deploy an extra server for extra capacity with the touch of a button. Once we are ready, we automatically shut down this server to save costs.
Datadriven monitoring & optimisation
Logging will help you gain insights that can be used to optimize your production rates. By gathering and analyzing the available data in a specified time or date slot, you will understand the reason behind the errors or downtime. All this can be done without programming, including machine learning.